February 21, 2023
MTDA Student Spotlight: Amy Cogswell
Image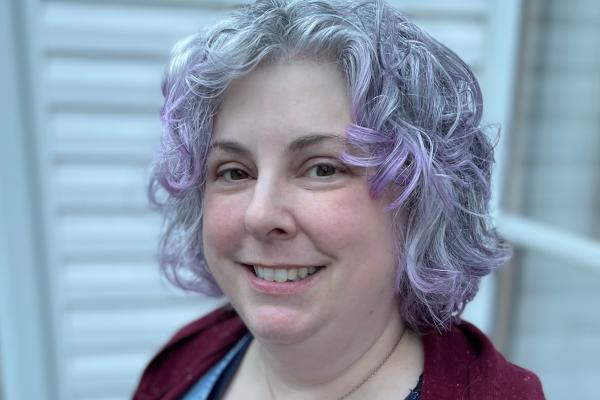 Description
I spoke with current Masters in Translational Data Analytics (MTDA) student Amy Cogswell via Zoom in December as the Autumn 2022 semester was wrapping up. On the five semester pathway, Amy is on track to graduate at the end of Spring 2023. 
"Looking back, it was a stretch."
Amy Cogswell's engagement with the MTDA program began with a misunderstanding. With a B.A. in French Language and Literature, she first thought "translational" had to do with language. She quickly learned the truth after looking up the program. While she found it interesting, she decided she didn't want to be in the first cohort, so she waited a year and then applied. 
When Amy applied to the program, she was a project manager on the Workday implementation at The Ohio State University. She knew that project would end, but she wasn't sure if she wanted to continue with project management or pivot to something else. Ultimately, she decided to pivot.  
On the Workday Implementation project Amy worked with people across the University and with counterparts at the medical center. One of the people she worked with was Laura Gast, Ohio State's Data Governance Program Director. The semester Amy took the Data Governance seminar she reached out to Laura to let her know she was enrolled and they would occasionally discuss topics from the class. As Workday implementation wound down, a supervisor sent a call out to other departments to see if they could use some help. Data Governance responded and Amy was able to work more closely with Laura and the then Data Governance Analyst. That analyst ended up moving on in her career, so when the position was posted Amy applied and was hired. 
"Design thinking classes really changed the way I do my job." 
While studying design thinking, things began to click into place for Amy. She talked to Laura about how they could incorporate the principals into their data governance work. Consciously putting the end user first and tapping into empathy, has gone a long way to ensuring their office's relationships with other university entities are positive and the individuals they work with are receptive. The thought process is "how can we help?" and not "Data Governance says you will do this." 
"It was fun having a huge data set handed to us to explore." 
Now beginning her second semester of the capstone, she fell into a project perfectly matched to her background. Initially, it wasn't obvious what the project would involve, but as Amy and her teammate worked with the sponsor it became clear it was going to involve natural language processing. The second half of the capstone will involve completing analysis and utilizing Qualtrics surveys to see if they were correct with how they categorized the words. 
As her time in the program nears its end, Amy reflects that one of the program's strengths is the diversity. With students coming to the program from a variety of backgrounds and at different points in their careers, there's no shortage of difference in opinion or ways of thinking which benefits everyone.
This article originally appeared on LinkedIn January 26, 2023.
---